CHOOSE YOUR MOTORCYCLE MODEL:
CHOOSE YOUR MOTORCYCLE MODEL:
| | | | | |
| --- | --- | --- | --- | --- |
| | | | | |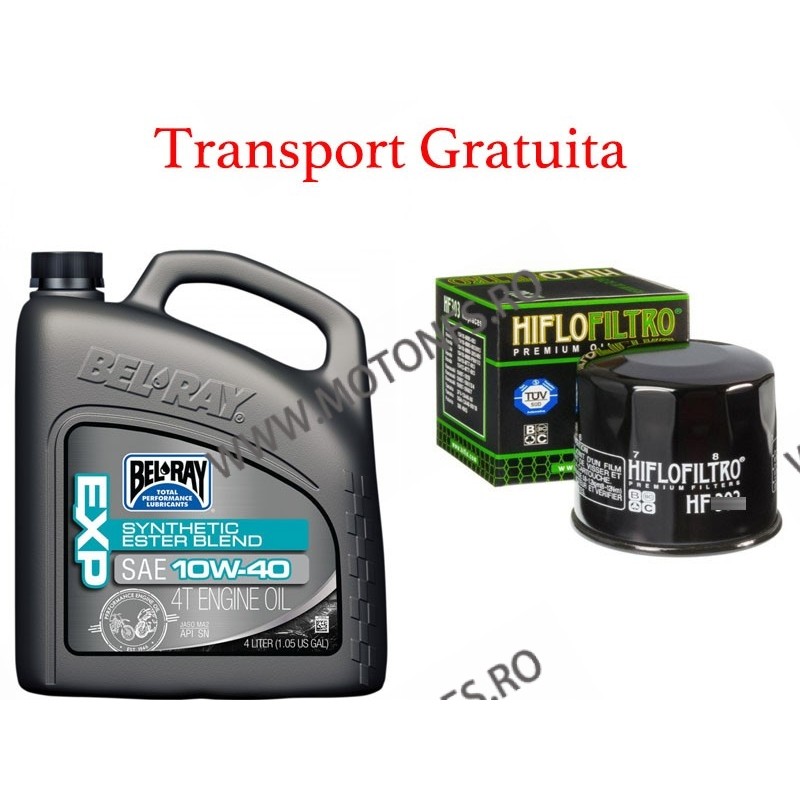  
10W-40 Ulei de motor Bel-Ray EXP SYNTHETIC ESTER BLEND 4T 4 l + Cadou Filtru Hiflo standard + Transport Gratuita
Synthetic 4-stroke motorcycle engine oil for air/liquid cooled engines. API SM, JASO MA2.
Product customization
Don't forget to save your customization to be able to add to cart

Nu a primit e-mail de confirmare a comenzii Vă rugăm să verificați spam-ul .

Politica de livrare :în cazul în care trebuie să se mențină o valoare mai mică de 200 de lei, clientul va suporta doar cheltuieli de transport aferente, care vor fi îngrijite în termen de 20 lei / comandă.Livrarea va fi efectuată de către GLS Romania

Politica de returnare Consumatorul are dreptul sa notifice in scris comerciantului ca renunta la cumparare, fara penalitati si fara invocarea unui motiv, in termen de 14 zile calendaristice de la primirea produsului.
Bel-Ray® EXP Synthetic Ester Blend 4T Engine Oil este un ulei semi-sintetic ce combina uleiuri sintetice de calitate superioara cu uleiuri cu baza minerala, atent selectionate, asigurand cel mai inalt grad de protectie tuturor motocicletelor in 4 timpi.
Contine aditivi speciali ce impiedica ruperea peliculei de ulei la temperaturi si turatii inalte.
Indeplineste cerintele de performanta ale API SM si JASO MA2.
Destinat motoarelor in 4 timpi, racite cu lichid sau aer si echipate cu ambreiaj umed.

Ambalaj: 4L
Standarde: API SM, JASO MA2
Tip ulei: Sintetic
Vascozitate: 10W40
Customers who bought this product also bought: